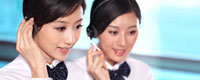 Name: York Ji
Tel: +86-0755 8614 0435
Fax: +86-0755 8614 0435
Mobile: +86 18922804821
E-mail: sales@yuusfji.com
Add: 216 2nd floor,Technology&industry Building,No.6, Ke Yuan Road, NanShan Districct, ShenZhen GuangDong China.
QQ: 1260882841





Price Of CREE LED Will Be Lower Soon

You may hear lots of advantages about LED lighting. Energy saving, eco-friendly, long lifespan…….balabalalbala.
Yes, everyone love energy saving and eco-friendly products. However, you may think price of LED is high. So, you did not change all of your lighting to LED.
One good news is CREE, which is one of the best LED brand, will reduce price soon. Price of some price may be 20%-30% lower. After price of CREE LED become lower, we believe that most of other LED manufacturer will reduce price soon.
So, good news to everyone is that price of our LED lighting may be lower recently. It depends on manufacturer.
In 2015, we believe LED lighting will be used in most of commercial and home lighting application.