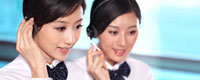 联系人: York Ji
电话: +86-0755 8614 0435
传真: +86-0755 8614 0435
手机: +86 15889707389
E-mail: sales@yuusfji.com
地址: 深圳市南山区科技园科苑路6号科技工业大厦西216
QQ: 1260882841



Why LED Lights?

There are numerous advantages of LED lighting products, which have a great degree of reliability, durability, longevity, ease of operation, and energy efficiency. LED light bulbs can last anywhere from 25,000 to some 100,000 hours of service life, while providing tremendous energy savings over conventional incandescent light bulbs destined for phase out in the US by 2012, and compact fluorescent lights. Modern LEDs are four times as energy efficient as CFLs, and turn on to full brightness instantaneously. There is no need to wait a few minutes for a bulb to warm up. LED lights can be recycled in a safe manner, because unlike compact fluorescent lights, LEDs do not contain Mercury, or any other harmful materials.